A workshop for New Dads!
SATURDAY, FEBRUARY 1st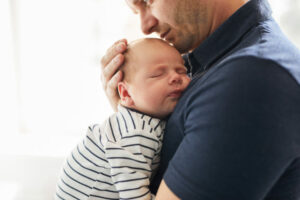 DOES THIS SOUND FAMILIAR?
Your wife says, "Sure! Play golf this weekend!", but when you get home from golf she's mad at you and you spend the rest of the day fighting.
You tell her, "I can watch the baby, take a little time for yourself," but she doesn't actually take the time and then complains about not having enough time for herself.
She wants you to help with the baby more, but tells you that you're doing everything wrong.
You've been fighting more.
You're communicating less.
You're having less sex.
She rejects your hugs, kisses, and attempts at connection.
You feel more stressed about work, money, and making everyone happy.
You miss your freedom.
You feel like you've lost your best friend.
YOU ARE NOT ALONE!
The transition to parenthood is tough, both on Mom and Dad.
Marriage & Fatherhood is a workshop that will normalize
the changes taking place in your marriage since having a baby
and teach you simple, practical tools and secrets for being a
great Dad and Husband!
Next Workshop SATURDAY, FEBRUARY 1st
10AM – 11:30AM
TOPICS COVERED INCLUDE:
Marital changes after a baby's born
Intimacy
Communication
Conflict Resolution
Parenting Tips
WORKSHOP LOCATION:
The New Mom School
200 Newport Center Drive
Suite 309
Newport Beach, CA 92660
*CANCELLATIONS MUST BE SUBMITTED 7 DAYS IN ADVANCE