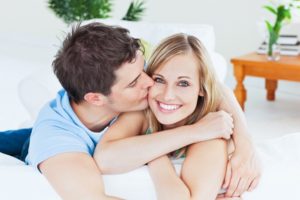 October is here, Halloween is just around the corner, and you're probably already beginning to feel a little stressed about the upcoming holidays.  For most couples, this is one of the busiest times of the year.  Social gatherings, sporting events, back to school meetings, 4th quarter work goals, and family obligations can easily fill your calendar leaving little time for romance and passion.
The good news is that small efforts daily will make a big difference.  Couples who focus on their relationship throughout the week are more satisfied and have healthier relationships.  To help you with this, I have listed 5 really simple actions you can implement each week that will keep your love strong and help you stay connected.  Make a habit of doing each item weekly and you will feel closer to your honey and happier in your relationship, regardless of how hectic your calendar may be.
Shut down all electronics once per week.  Turning off the outside world and tuning into one another on a regular basis is extremely important.  Whether it's just 10 minutes before bed or a full hour after the kids go to sleep, use this time to talk about life, play a board game, or just kiss and cuddle on the couch.  You'll be amazed how little you think about your iPad when you're snuggled up with your honey.
Eat without any distractions (including the kids) one night per week.  This can mean that you feed the children first, and then enjoy dinner and a bottle of wine together, or you go out to eat alone as a couple once per week.  Every couple, regardless of their situation, can find a way to eat alone together once per week. Make it happen.
Send a love text. There is nothing better than receiving an "I love you" text from your sweetie during the day. Knowing that they're thinking about you in the midst of their busy schedule is one of the best feelings in the world.  So, since you enjoy receiving these texts, you must get in the habit of sending them as well.  Make a point to send your honey a loving text at least once per week.  It doesn't have to be elaborate, just let them know that they are on your mind.
Take a walk.  We all need more activity, more fresh air, and more time together.  So make a point to go for a walk together at least once a week.  Again, this can be short, 20 minutes, or long, an hour hike together.  You can even include the family on this one.  Just get in the habit of getting outdoors, holding hands, and taking in your surroundings.  I mean who doesn't love a romantic walk in the crisp, cool Fall air?
Do something you don't like!  Letting go of your needs and doing something that your honey is interested in will go a long way in your relationship.  Whether you agree to go shopping with your wife, take some time to shoot hoops with your husband, watch a television show your spouse is crazy about, or try that new restaurant your partner's been dying to go to, sometimes it's just important to share the experience with them.  Doing something your partner likes sends a message that you care.  This will make them feel closer to you and more likely to do the same in return.  Again, it can be simple, but the message will be loud!