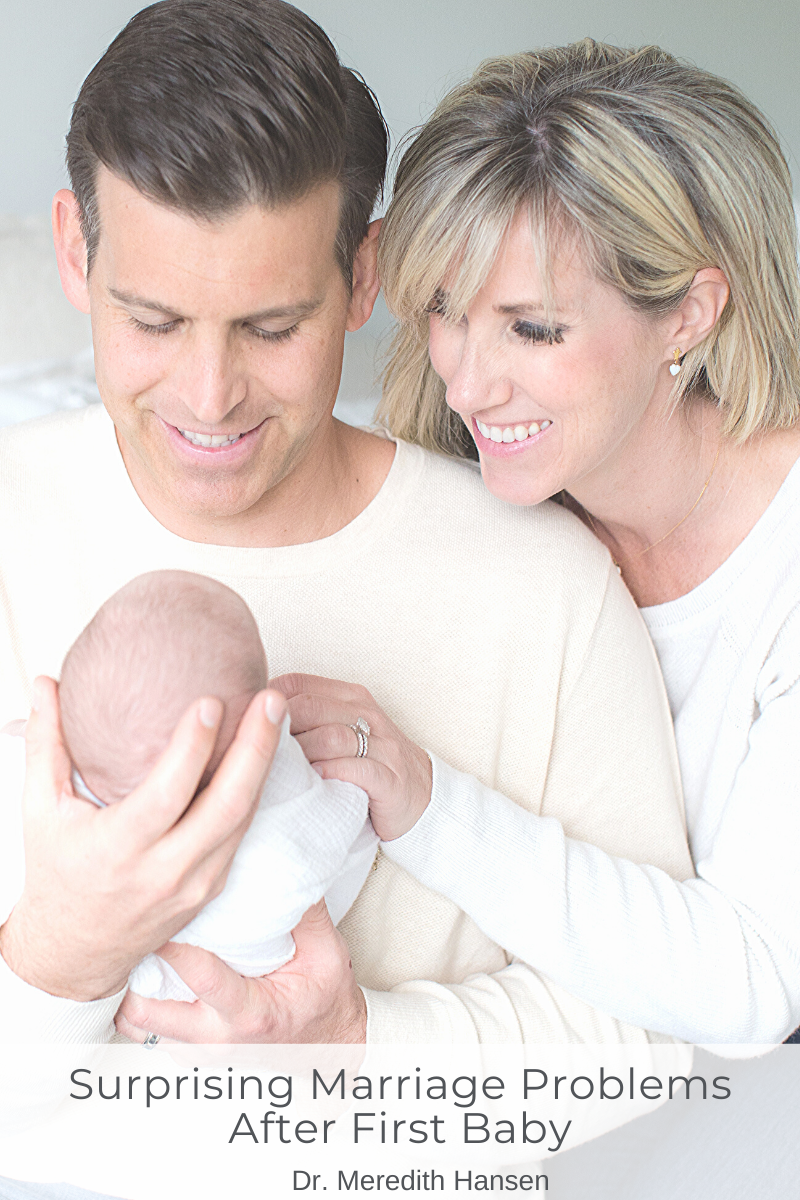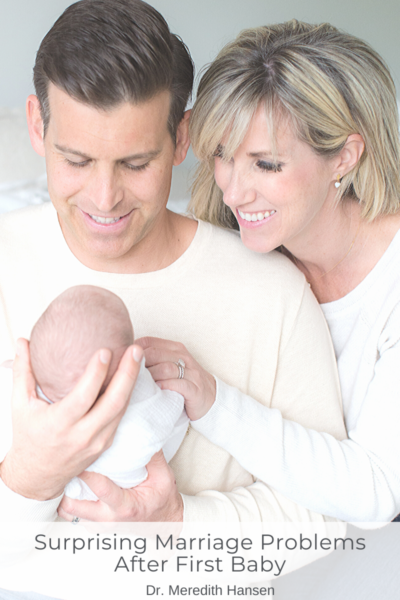 Like the majority of couples, my husband and I experienced marriage problems after having our first baby.
The transition to parenthood shook our relationship, and on our son's 1st birthday, we took a few minutes after the party to reflect on how we had grown as a couple and family.
BABY'S FIRST BIRTHDAY
My husband and I celebrated his birthday with a bang!
We threw him an adorable party based on our son's favorite book – The Little Blue Truck
We got totally into the theme and had a "Little Blue Truck" photo booth, farm animal balloons, water table, hay bales made out of Rice Krispie treats, Oreo cookie tractor wheels, lots of food, and a little blue truck push car.
It was a beautiful celebration of his first year of life, and all the fun we had made it easy to forget about the marriage problems we went through after our first baby was born.
MARRIAGE AFTER MOTHERHOOD
At the end of a very long day celebrating, my husband and I crashed into bed exhausted but excited to recap our first year of parenthood.
We talked about how much our son had grown over those 12 months, how cute he was, and how different our lives were one year later.
As my husband fell asleep, I continued to reflect on all the changes taking place. I thought about my own life, our marriage, our son, and our new family.
Having been together as a couple for so many years before having children, married life with a baby was definitely different!
Feeling Disconnected From Husband After Baby
Sure we still had a lot of fun together and enjoyed one another, but our lives had changed, and our rhythm as a couple had changed.
Pre-baby we had a good groove. We knew the "steps to our dance."
We allowed each other time for self-care, understood the need to spend time with friends, and encouraged one another to decompress and enjoy hobbies.
Pre-baby, we also had regular date nights, tried new restaurants, went on mini-adventures, traveled, enjoyed getting dressed and going out, laughed together, had sex much more regularly, and spent weekends cuddled in bed.
Life was good!
MARRIAGE PROBLEMS AFTER BABY
Marriage after the baby was fun, too, but it was different and not easy.
On the positive side, parenthood brought a more profound sense of meaning and purpose to our lives and relationship.
Life was no longer just about us. We were now the center of the universe for this little guy that we loved more than anything, and that was powerful.
We spent a lot of time caring for him together, making decisions for him together, and celebrating his milestones. We were in awe of how he was growing and developing.
In many ways, becoming parents brought us closer as a couple, but it also pulled us apart, and we began to lose our rhythm.
YOU'RE NOT ALONE
If you are a new mom reading this, feeling disconnected from your husband, YOU ARE NOT ALONE!
It is normal to feel dissatisfied in your marriage after having a baby.
Of course, it doesn't feel good, you don't want to continue on this way, but it is normal.
In fact, researchers have found that 70% of couples experience a decline in marital satisfaction after a baby is born!


MARRIED LIFE WITH A BABY WAS HARD
For my husband and me, marriage, after our first son was born, was filled with exhaustion, overwhelm, anxiety, resentment, and anger.
We fought more as parents, but had less time to resolve the conflicts.
We spent a lot of time together as a family on the weekend but felt less connected as a couple.
We slept in the same bed night after night, but rarely made out and our sex life was different.
Our marriage became lonely.
WE KNEW WE HAD TO MAKE A CHANGE
At some point, we knew we had to take action.
While we felt more fulfilled in life since becoming parents, we were less satisfied with our marriage and recognized the importance of improving our relationship.
LOVE IS A COMMITMENT NOT A FEELING
After having a baby, our commitment to our marriage became essential.
My husband and I wanted our son to grow up in a loving household, so we were motivated to get back on track as a couple.
Because we had been together for many years, we had been through our fair share of ups and downs, breakups, and "threats to leave."
We had experienced a lot (individually and as a couple), but after becoming parents, improving our relationship was more critical.
We knew that we didn't want our son to grow up with the conflict and discord we both experienced in our own homes as children.
Instead, we wanted him to feel love, witness healthy conflict resolution, and feel safe.
So when fights broke out, daggers were thrown, and feelings were hurt, we had to swallow our pride, apologize, share our emotions, and accept repair attempts.
We had to de-escalate, listen, pause the conversation, and start again.
With practice, we got better.
We started to let go of the little things, listened to each other's feelings and needs, nurtured our friendship, and communicated more effectively.
As we went through this process, we realized that love was a commitment, not just a feeling, and we had to keep that love alive by being better together.
It wasn't easy. We weren't always perfect, but we were motivated to create a loving family environment, and we knew that started with us.
We also returned to couples counseling with a great psychologist and re-read some of my FAVORITE MARRIAGE BOOKS!
MARRIAGE AFTER THREE KIDS
Today, we continue to work on our marriage. Nowadays, the stakes are higher. We have three children who all rely on us to be sound models of love and kindness.
Of course, we are still not perfect (and never will be).
We continue to argue, fall out of rhythm from time to time, and have to put in the effort to grow, repair, and change, but we are in it. We are committed to our marriage and each other.
ADVICE FOR NEW MOMS HAVING MARRIAGE PROBLEMS AFTER BABY
If you're a new mom and your marriage feels like it's on the rocks, hang in there. The transition to parenthood is a tough season in marriage, but it will get better.
The most helpful thing you can do right now is to focus on your friendship with your husband, learn how to resolve conflict, and allow yourself time to find a new rhythm as a mom and as parents.
Remember it's okay to turn to others, ask for help, read books, and go to counseling. Your marriage and your mood will improve with time, but you do have to work at it, and it's okay to need a little help getting life and love back on track.
THE BREAKDOWN: If you've recently had a baby, remember that this is a significant life transition. If you take steps now to start repairing your marriage, you will feel happier and closer to your husband and more satisfied as a mom.
Don't be afraid to reach out for help, schedule a session, read a great marriage book, and connect with other new moms. You've got this!!